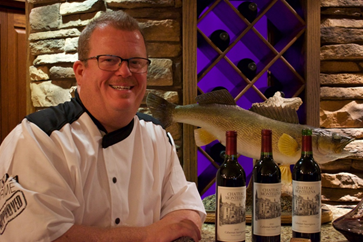 Every year I find myself in a wonderful dilemma to come up with new menu items that will dazzle our guests when they come to hunt. I have never wanted to just be "normal" when it comes to food. After working in the food industry for the last 25 years and being fortunate to travel all over the world and try different cuisines and restaurants and see what other chefs are doing in successful locations, I look to take items that our clients eat in their daily lives and put a "twist" on them.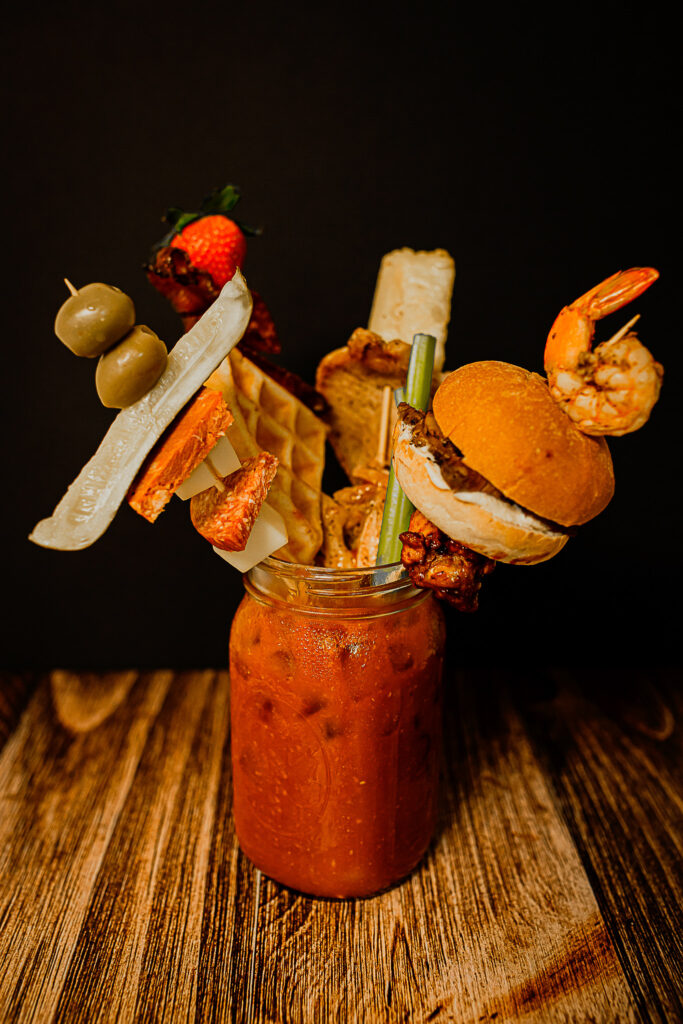 Another challenge we face is that we are a "catering kitchen" at the Signature Lodge. We design a daily menu with a single choice for our guests to enjoy. So, in thinking about what entrees can be served I have to design items that an entire room of 30-40 guests will all like. Taking into account for different tastes, geographic areas where our guest live, lifestyles, and all of the dietary requirements individuals have make this a think through process.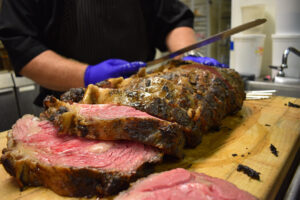 Beef is King at The Signature Lodge
My main style of food design would lend itself to the finer American steakhouses in the US. Locations like The Palm, St. Elmo's, Al Biernat's, Pappas Steakhouse and 801 Chophouse all influence my food style.
If any of you have listened to my pre-dinner speeches, you know that our Lodge is owned by the Weinreis Family. Their main business is beef production and beef is "King" to them. We take great pride in our beef dishes at Signature Lodge. All of our beef is USDA Prime, wet-aged with a minimum of 45 days and hand cut.
Our slow roasted prime rib has been the Lodge's signature dish for the past 11 years. The preparation and cooking takes all day and the finished product is 20oz's of the best beef you'll ever eat. Our prime rib is 1 of 2 recipes and processes that my culinary staff are not ever allowed to change. Meanwhile, the other is our homemade sausage gravy.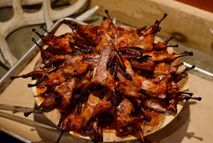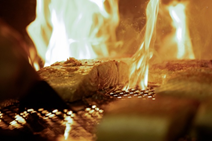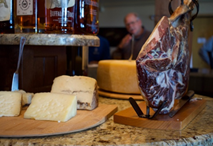 But That's Not All We Have
Fresh seafood is shipped in from Morey's Fine Fish & Seafood and Honolulu Fish Company. It is amazing that seafood can now arrive at destinations like Signature Lodge in matter of hours from being caught. For example, our Verlasso Salmon from Chile is only 48 hours out of water when we serve it for dinner.
The European Import division of Sysco allows us to source products from Italy and Spain. For instance our Jamon Iberico legs, wild boar sausage and dry-aged chorizo that we feature behind our bar for 5pm "snacks" come internationally. Pair these with fines cheeses like our Manchego from Spain and our Parmigiano-Reggiano wheel from Italy and your culinary experience with us just at the bar is elevated to a new level. Not your typical hunting Lodge.
The Food Day at The Signature Lodge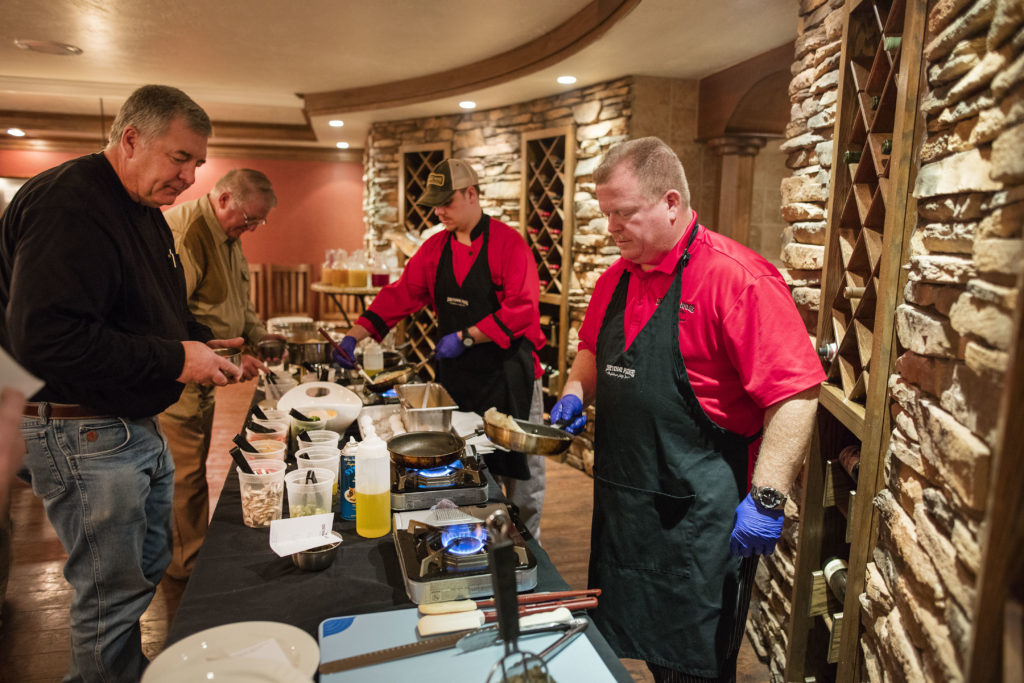 Breakfast
We start everyone off at Signature Lodge with what I consider to be the best breakfast in hunting or fishing. That is to say our live egg and omelet station features over 20 items to make your favorite omelet with. Have eggs anyway you like. Pair any breakfast with a hand cut NY Strip, pork chop, elk steak or ham steak pan seared right in front of you.
We also feature our waffle, pancake and french toast live station for those guests that have a bit of a sweet tooth in the mornings.
Lastly, our country buffet features bacon and sausages, homemade sausage gravy and biscuits, southern style grits, fried apples and hash-browns.
In the same vein, for those guests looking for a lighter breakfast we feature fresh fruit and berries, cereals and a smoked salmon display daily.
If you leave for your morning hunt hungry it is your own fault.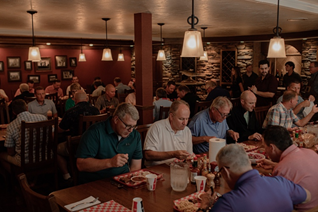 Lunch
After a morning hunt all our guests enjoy a plated lunch back at the Lodge. Lunches feature creative sandwiches, stews, and chilis. On the other hand, you can't overlook our slow smoked BBQ items. You'll love our brisket, ribs, and chicken.
Pre Appetizer Snacks. Yes, You Read that Correctly.
When guests return at 5pm from their afternoon hunt our inclusive bar is open and a host of pre appetizer "snacks" is available for start with. Have a plate of charcuterie items with one of over 180 bourbons, whiskeys, scotches, vodkas and tequilas we feature.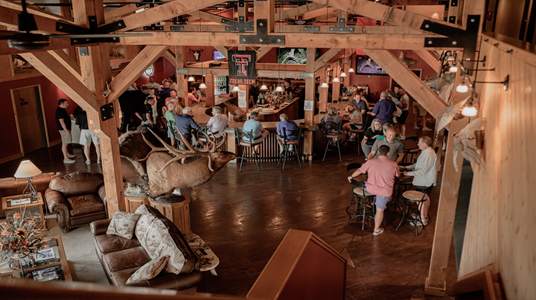 Appetizers
At 5:30pm each day we bring out our appetizer selections. Normally 4-6 choices daily. For example:
Specialty pizzas such as wild boar Pizza
New Orleans style BBQ shrimp
Philly cheesesteak style egg rolls
Brisket stuffed jalapeños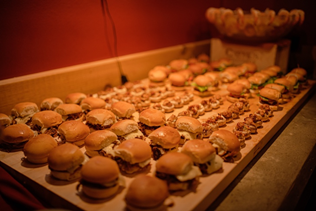 We also like to entertain our guests during the appetizer time with live cook stations both inside and out on our beautiful patio overlooking Lake Oahe. We feature items like lamb gyros, grilled quail and sausages, seared scallops and carved meats. You never know what I may have going over the fire pit at 5pm.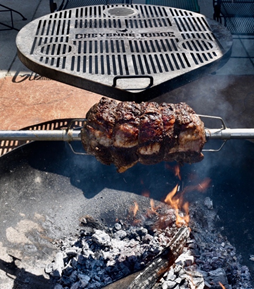 Dinner
Finally, at 7pm, I call our guests to dinner in our main dining room. We start off and talk about the day and make announcements for the next day.
I introduce dinner and our staff to the guests, and then we start our 3-4 course dinner service. All of our dinners are paired with a wine chosen to match that evenings main entrée. Our wines all score over 90 points from sources like Wine Spectator.
I am happy to introduce just a few of the other dishes for at The Signature Lodge:
Bone-in belly loin pork chop with collards and sweet potato hash-browns, sweet cream gravy and southern chow-chow.
Our "surf-n-turf": beef filet and fried lobster tail, sautéed spinach and fondant potato with crispy fired onions and hollandaise sauce.
Alligator Boudin Stuffed Bandera Quail with a peeper chili glaze, corn maque choux, crawfish cream and a sunny fried pheasant egg.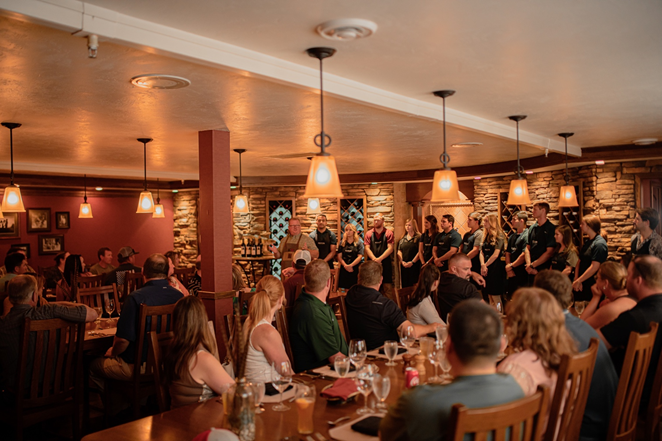 My culinary staff and myself always look forward to serving our guests the best food we can possibly make and sending them away with a feeling that being at Signature Lodge was more than just a pheasant hunt. It was a great gastronomic experience as well.