Lake Oahe. When you think of South Dakota I'm sure you have the same thought as everyone else. There is a lake in the middle of South Dakota? However, Pierre, South Dakota has one of the most beautiful lakes formed by the Missouri River. This is Lake Oahe. Stretching for 231 miles from the Oahe Damn to Bismarck, North Dakota, this lake is the largest of the four Missouri River reservoirs. With the maximum depth of 205 feet and the clarity of the water this lake is known for its amazing fishery. The Signature Lodge would like to introduce to you the best fishing experience on this lake.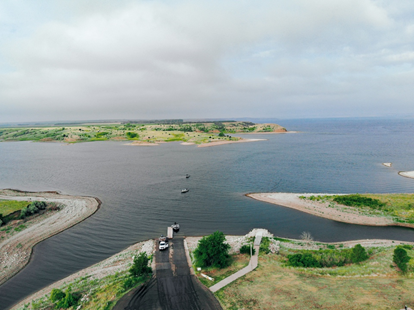 Why it's considered the best fishing.
Oahe has three major river systems that feed into the reservoir that continually impact the fishery in various ways. These are the Grand River, Moreau River, and the Cheyenne River. Flowing from north to south these rivers have a huge impact on the spawning habitat which helps create one of the most diverse fisheries in the Midwest.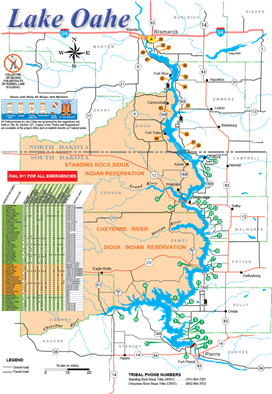 Being able to fish year-round, South Dakota draws in many anglers from across the country and offers the opportunity to catch different types of fish. The most common species caught in this lake is the famous walleye. When putting your line in the water you can not only catch your limit, but also a record walleye weighing up to 12-15lbs and 20+ inches long. Other common species include the smallmouth bass, white bass, northern pike, perch, and catfish.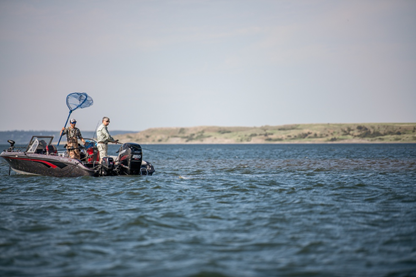 The main fish of this Lake…Walleye
In the beginning of the summer, you will find that more fishermen to be in the shallower bodies of water. This is because of how cold the water temperature is. Jigging or pulling on the bottom in less than 10 ft of water is recommended and will give you the opportunity to catch a nice size walleye. Mid-June into July the air and water temperature starts to rise. The bait fish will start to slide into deeper parts of the water, 10-20ft, which the walleye tend to follow. As the end of July approaches and temperature continues to increase you will find more walleye in 30+ feet of water. You will see most anglers trolling, vertical jigging, and using live bait to catch these deeper fish.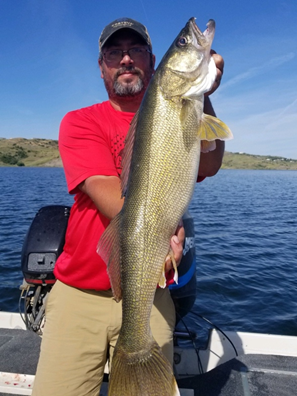 Oahe best kept secret of smallmouth bass came to be one of the most popular species to catch on this body of water. Because of this, the BassMaster Elite made their first appearance in South Dakota in 2018 to test their angler skills. Reeling in a smallmouth on Oahe will not only test your fishing skills, but also give you a fight you won't forget. You can fish for smallmouth in the early parts of summer, finding them hanging up on rock piles and islands. In mid-June is when they begin to spawn. However, starting in mid-July is when it starts to get good. Fishermen tend to focus more on islands and long structures, using bottom bouncers and minnows. These fish average about 4-5lbs, but if you're lucky enough you can catch a 6+lb as well!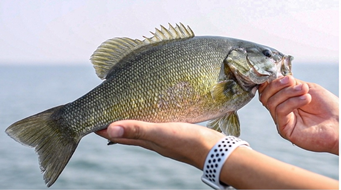 When looking for a Northern Pike, you will have the best opportunity to catch a 20lb monster after the ice melts off the lake in early spring and they begin to spawn. Starting in early May you will find locals fishing along the shoreline using smelt as bait. Hoping their line hits bottom and attracts the attention of the top predator of Lake Oahe.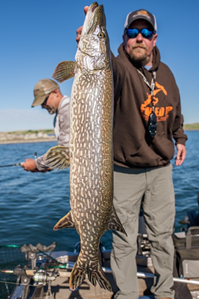 Come join us for an amazing fishing experience on Lake Oahe !
With Lake Oahe located right behind The Signature Lodge, we are happy to offer you this kind of experience over the summer. From May to July, we can accommodate you to the most peaceful, but hardcore fishing out there. Whether you are looking for a nice day out on the boat or a fun filled day with 6 rods in the water, this lake can offer it all. Limits of 4 walleye, 5 smallmouth, and 6 pike, and other species. With Lake Oahe being one of the most diverse fisheries in North America, you can be sure to leave with great memories, and a cooler full of fish.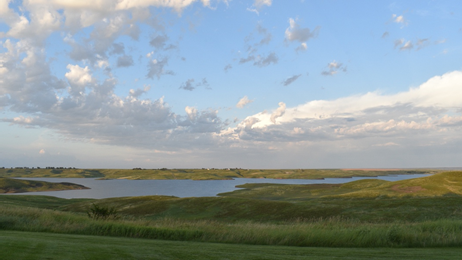 Reserve Your Fishing Trip. You Know it'll be the Best Part of Summer!
Give us a call, and get all the details: